Educational Partnership Program with Environmental CSOs
The CSO Learning Program gives undergraduate and graduate students the experience of an internship at civil society organizations (CSOs, including NPOs / NGOs) that are active in the environmental field. Through the internship, the program aims to develop human resources who can acquire knowledge and skills about environmental issues and civil society, and who can influence their surroundings to solve problems. For the host organizations, the program is expected to pass on its objectives and vision to the younger generation, and also to revitalize the organizations by being stimulated by their fresh ideas. This program has established a unique position from its inception in 2000 to the present as an innovative program for human resource development through partnerships between companies and CSOs.
How the program works
The foundation pays scholarships to interns based on their hours of activities at their assigned CSOs. The actual internship activities at CSOs range from planning and organizing seminars to policy advocacy, surveys and research, and fieldwork in nature, depending on the activities of the partner CSOs.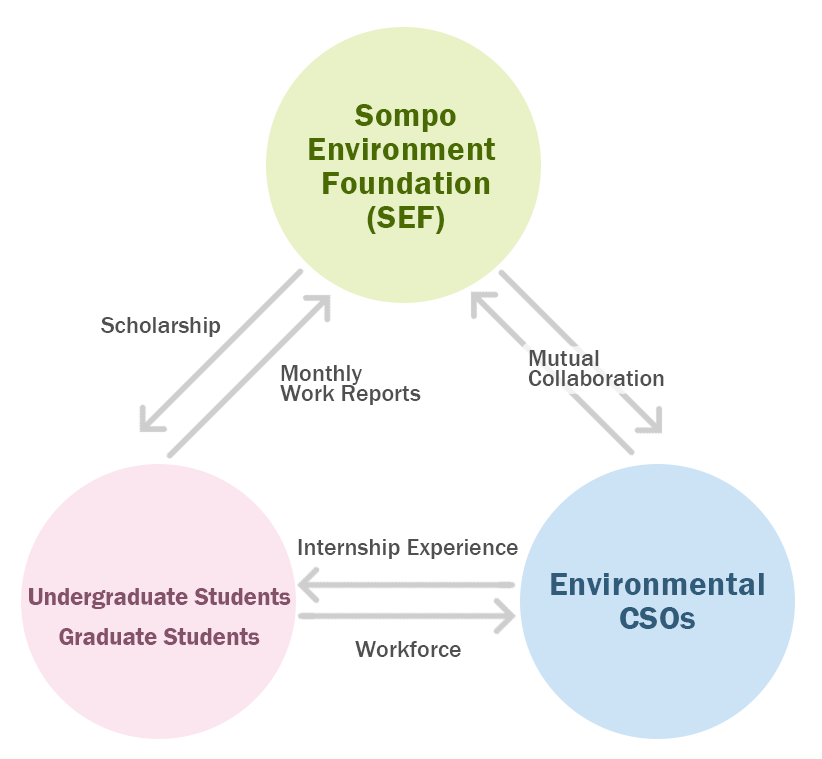 Year Round Program Schedule
The program runs from June each year until January of the following year (8 months), with a maximum of 200 working hours per participant. About 60 participants each year take part in around 40 CSOs in the Tokyo, Kyoto/Osaka, Nagoya, Sendai and Fukuoka.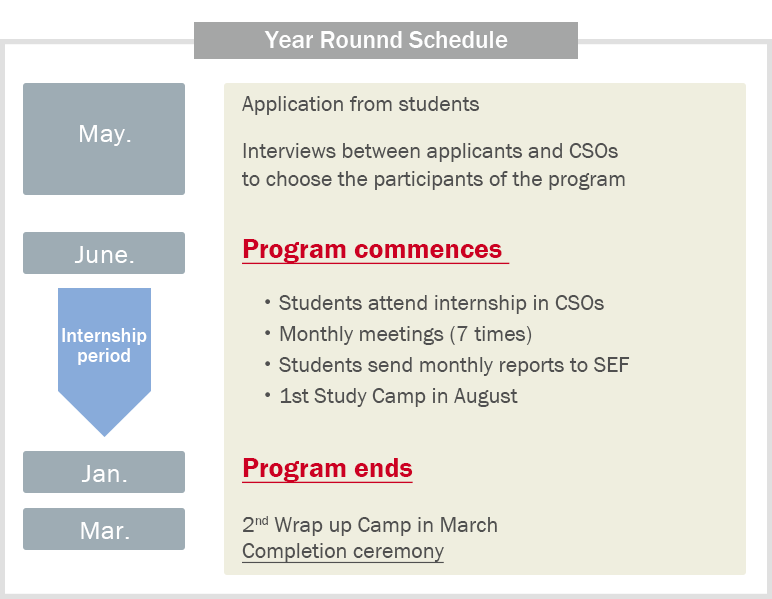 Application Qualifications
Undergraduate or graduate students who meet the following requirements:
interested in civil society organizations (CSOs) and environmental issues,

willing to learn, challenge, and take action.
Note: Non-Japanese students currently enrolled in Japanese universities and graduate schools are welcome to apply. Applicants need to be able to communicate in Japanese.
Interview with CSOs
Monthly Meetings and Study Camp
Participants have monthly meetings with program colleagues in the same region and a joined study camp for all regions. At these meetings and study camp, participants discuss various topics and plan collaborative projects. This helps to strengthen the bonds between colleagues who share an interest in the same environmental issues and motivate them to get through the long internship period.
Monthly Meeting
Summer Camp
Completion Ceremony
Representative interns present what they have learned during their internships at CSOs in front of SEF management.
Voices of Program Participants:
" I met very inspiring people with very high aspirations who I had never met before."
" I was able to broaden my vision by interacting with people from different positions."
"We were able to exchange experiences with various CSOs and share our eye-opening views."
"I was able to make new friends that I would like to keep in touch with even after finishing the program and going out to work in society."
The Foundation will continue this Program in the future, while further strengthening its ties with CSOs to produce people who will contribute to solving environmental problems.